Vietnam has been handling the Covid-19 crisis pretty well until April of this year when people took advantage of the long holiday celebrating Reunification and Labor Days. The surge happened then. Hanoi, Danang, Bac Giang, and Bac Ninh were badly hit.
Vaccines were rolled out giving priority to factory workers and teachers. Districts arranged swab testing too.
I thought Ho Chi Minh City would be spared but in late May, we started to catch up when a religious group's several members were identified as F0s. Those areas with lots of cases were put under Directive 16 where people can only go out for essentials, and the rest of HCMC under Directive 15. Public transportation except for xe oms were suspended. We can still go out using private vehicles.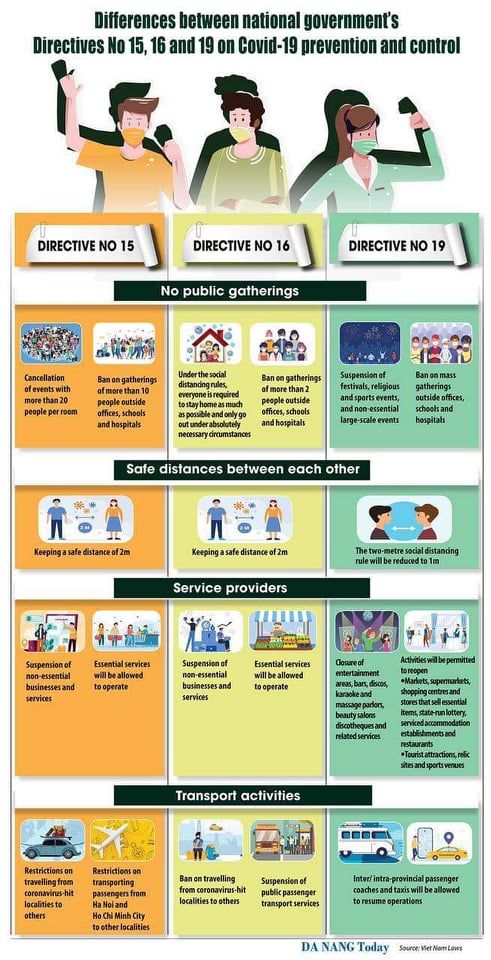 Two months after, we've surpassed all the other cities and provinces in Vietnam with the highest number of cases. We're now at 9000++ and counting. To be fair, a large number of new cases were identified close contacts of previous cases — so they've been pretty much in quarantine for a number of weeks of already. But of course, there are still new cases that require contact tracing.
To curb the rising number of cases, the government finally decided to implement stricter rules under Directive 16 for the whole of HCMC. That's today. We shall be under lockdown for the next 15 days.
A few days ago, when news broke that one of the largest supermarkets in my district saw 3 cases, it caused a wave of panic. People started supermarket-hopping and emptied the shelves. I have to admit I was one of them.
Honestly though, we shouldn't have panicked as there really is no food shortage and groceries shall remain open for the rest of the lockdown. We were all just shook up with the sudden surge of cases and yeah, we'd rather hibernate for the next 15 days than venture out and buy stuff and catch the Delta virus. Compared to other countries, Vietnam has been isolating all COVID cases — which is understandable. But it is worrisome to be separated from your family especially if one is a foreigner.
On Tuesday, we decided to stock up on food and we went to our usual supermarket. There was a long line! This has never happened before except for Lunar New Year holidays.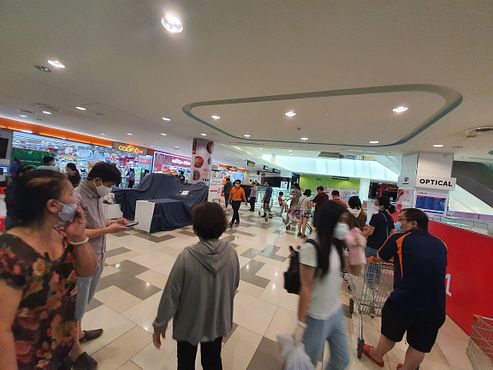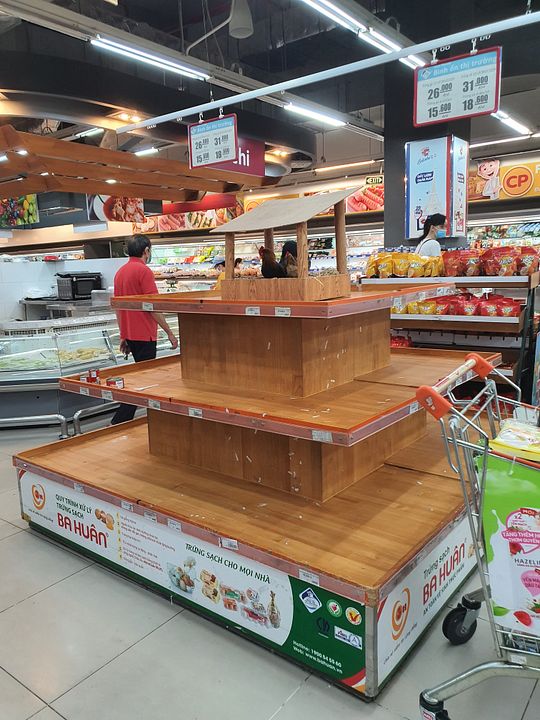 There were lots of food but the staff couldn't keep up restocking the shelves.
Our go-to meat shop was only allowing 3 people at a time, so there was a long line. People were kind and just quickly bought what they needed so the next customers could get inside.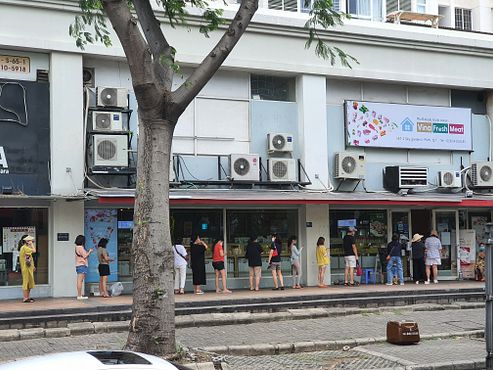 Below is from a friend (Hi, Mae!) near her apartment. All the veggies were gone. But she was unfazed. She can live on meat and chips. Me too! 😛
Fingers crossed that something good will result from this new directive.
So today is day 1 of the lockdown and our pantry and fridge are pretty much loaded to last the next 15 days unless the kids start raiding them.
Stay safe, Saigon!